Tysons, Va. (May 25, 2023) – On a sunny afternoon at the start of summer, Ridgeline International marked the eighth anniversary of the company's founding with a tropical celebration attended by more than 80 members of the Ridgeline team and their friends and family. The party featured music, a barbecue, drinks, and games. Ridgeliners also tested their knowledge of the company's history with a thrilling round of Ridgeline trivia.
"There's nothing better than getting together at Ridgeline with friends and family," says Sameer Farah, Associate Director of Accounting. "The anniversary party was a fantastic event and a great chance to catch up with my teammates and celebrate together."
There was much to celebrate at this event, as the past year has been busy for the growing company. Between 2022 and 2023, Ridgeline expanded its training and technology offerings, launched a new website, deepened its connections with current customers while expanding into new markets, and opened the doors to a new Tampa office.
Several Ridgeline leaders gave brief speeches and reflected on the progress made over the company's eight years. During his part, Joe Schniebs, Ridgeline's CTO and co-founder, reflected on the passage of time and its impact on the company and its customers.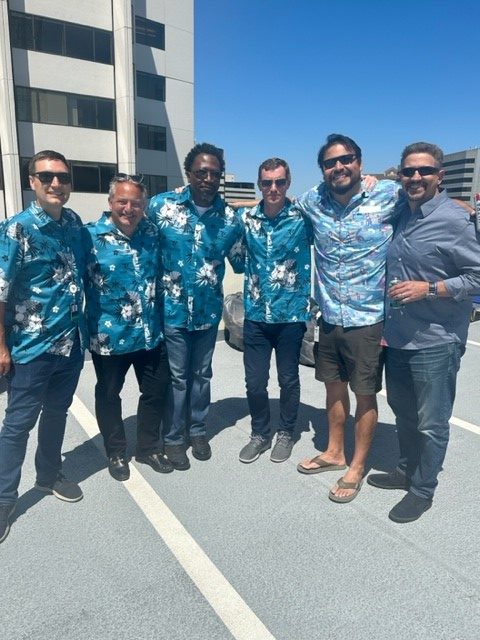 "It seems like Ridgeline began just yesterday – a handful of people sitting around a table debating the finer points of comms technology, picking out medical plans, and determining which bank to use," Joe recalled.
"We've changed and grown along this journey, but all these points create a thread that continues to draw long into the future. And time even has a special meaning to Ridgeline for our clients. Our technologies help them shape the digital record of their time for the safety and success of their mission."
Ultimately, this impact and connection to the mission is what Ridgeliners celebrated and what continues to motivate their work to build outstanding Digital Signature Management solutions.